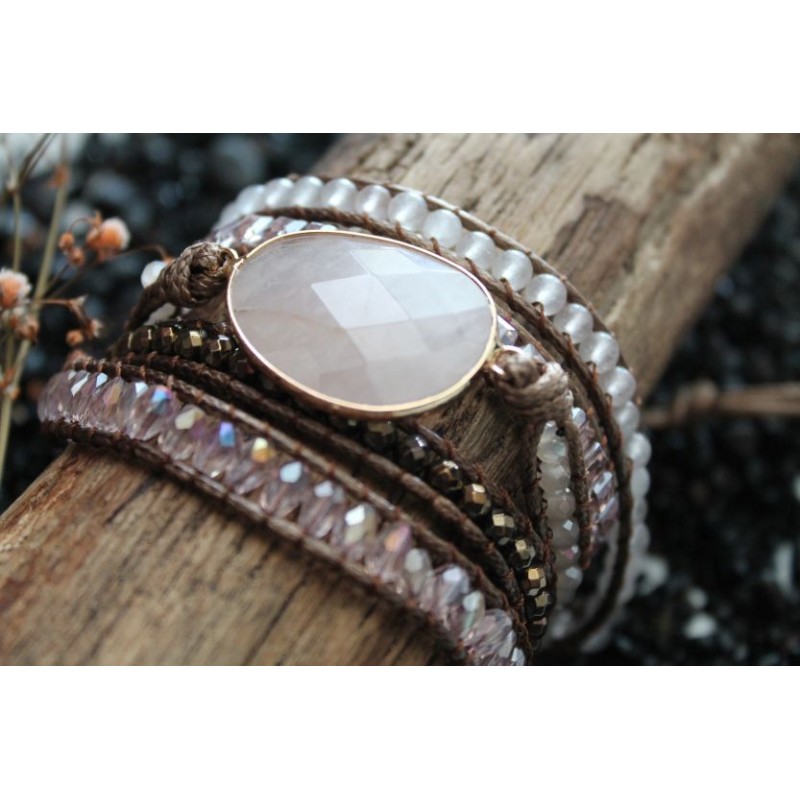  
copy of Wrap bracelet fivefold rose quartz for love and romance Crystal bracelet
Five-fold wrap bracelet made of rose quartz and natural stone pearls.
This cool wrap bracelet is carefully handcrafted from natural stone pearls and the centerpiece is rose quartz set in gold. The piece of jewelry will give you a natural, refined and harmonious appearance.
Spiritual effect rose quartz:
Rose quartz promotes love and romance. It reinforces the energies and feminine qualities and can help to overcome emotional crises and injuries.
Rose quartz has an opening positive effect on our emotional life. Rose quartz touches with its gentle energy and brings love back to flow. It helps us with cold feelings, helps ourselves and others to forgive and helps us to love again in the most important things in life.
From a spiritual point of view, the rose quartz bracelet has a positive and opening effect on the heart chakra and the organs connected to it, heart, house, blood vessels and lungs. It has a calming effect, reduces stress and thus also helps to fall asleep,
✧ Type: Five-fold wrap bracelet
✧ Material (middle piece): rose quartz, bordered in gold
✧ Other materials: natural stone beads, brown nylon cord, metal beads, metal button flower shape
✧ Bracelet length: approx. 92 cm + 3 fastening loops
✧ Dimensions rose quartz: 2.7 x 2 cm
✧ Closure: Toggle closure with three possible loops, silver-colored flower button
✧ Made with love and carefully made
Please note: All stones are natural, so color, size and shape may differ from the pictures.
Data sheet
Heilstein

Rosenquarz