Diary with a great Indian motif, antique look, a real eye-catcher.
Large diary for long texts and many thoughts, also suitable as a sketchbook.
Small notebook centerwith OM sign, fits in any jacket pocket.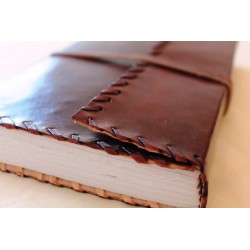 Notebook with a smooth leather and a leather strap ornament on the edge.
Leather diary with a polished black onyx stone in the middle.
Notebook with a leather cover and a beautiful floral motif.