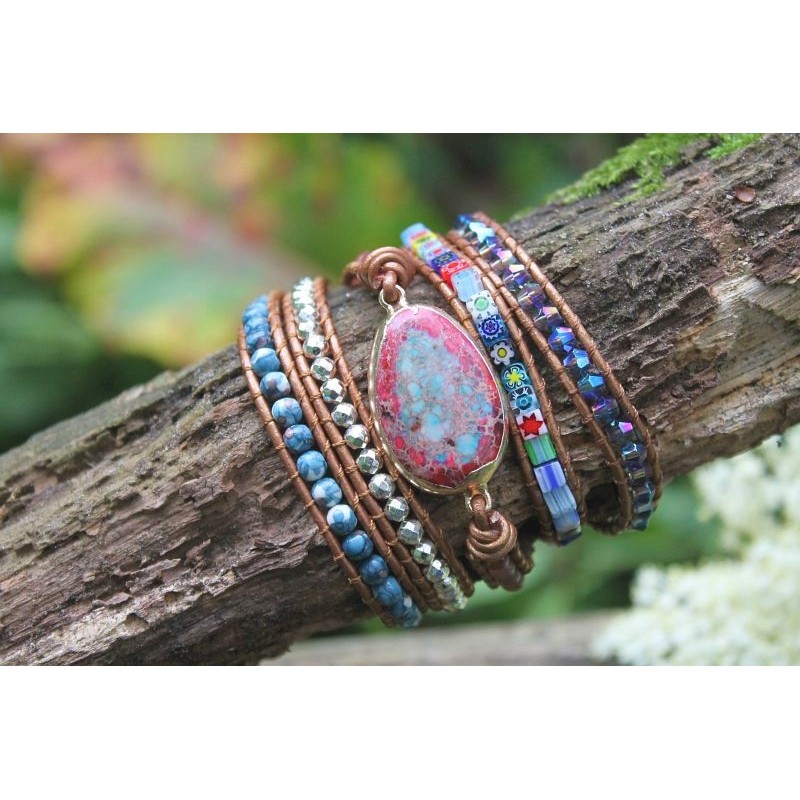  
Wrap bracelet fivefold jasper oval emotional stability meditation
Wrap bracelet with reddish-bluish jasper.
The oval-framed Sea Sediment Jasper puts you in a good mood just with its reddish-bluish color. The bracelet can be wrapped around the wrist five times and has three settings.
Spiritual effect:
Sea sediment jasper is a gem of stability. It offers strong protection against things that are not good for you and it relieves emotional stress.
The reddish varieties are designed to help you connect with the higher heart and the collective consciousness of the higher realms.
Jasper supports in stressful times and gives a feeling of completeness and calm. It is also often used when remembering dreams.
Regardless of the effect of the jasper, the heart has fabulous colors, which leads to a better mood just by looking at it.
Material (oval): Sea sediment jasper
Other materials: leather cord dyed in bonze, brass, glass beads, metal beads, natural stone beads
Strap length: 83 cm
Width oval: 3.5 cm
Closure: toggle closure, brass button with three possible loops
Please note: All stones are natural, so color, size and shape may differ from the pictures.
Data sheet
Heilstein

Jaspis